Shipping Options
A wide variety of shipping methods are configured within EBMS and the e-commerce system including UPS or FedEx settings, truck delivery, pick-up and other options. Shipping methods can be configured per customer group. Review the Getting Started > Customer Group Settings section for more details on creating customer groups.
The shipping methods that are available within the e-commerce website must be setup within the EBMS software. Go to Sales > Options and open the General tab to originally create Shipping Methods. Review the Sales > Freight and Shipping Tools > Creating Shipping methods section of the sales documentation for instructions on creating shipping methods. This step must be completed before continuing with the shipping configurations within the website settings.
Associate the Shipping Methods to specific customer groups by opening the website setting dialog - Sales > Web > (website) from the main EBMS menu. Select a customer Group and click on the Shipping Options button to open the following dialog: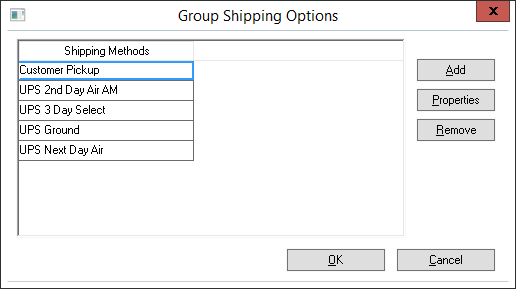 Use the Add and Remove button to change the Shipping Methods list. Note that removing a shipping method from the list only disables it from the e-commerce site and does not disable or remove the shipping method from EBMS point-of-sale screens.
The Properties button allows the user to enter a custom message to replace any 0.00 shipping calculation. For example instead of showing a shipping method of 0.00 UPS Ground a user may choose to display FREE UPS Ground.
A message can accompany any shipping method by entering Details into the Sales > Options > General Tab > Shipping Method > Properties > Details entry.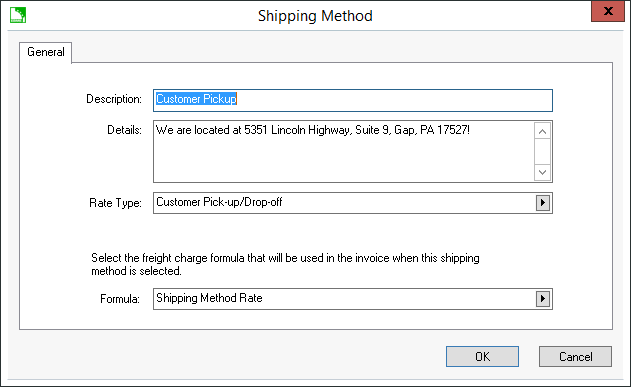 Refer to the Sales > Freight and Shipping Tools > Connecting directly to UPS WorldShip or FedEx section within the sales documentation for details on creating UPS shipping methods as shown above.
Setting the Default Shipping Method for the Customer.
Open the customer record and click on the Terms tab. Open the generic customer to set the default shipping method for customers that do not log into the e-commerce site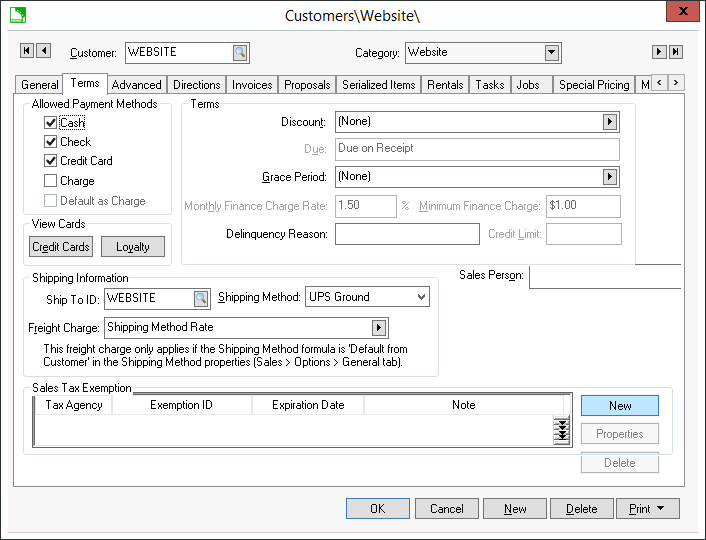 Set the default Shipping Method to the desired setting. Keep the Shipping Method blank to require the user to select a shipping method during check out.
The system can limit the countries that are available to ship to. For example, the shopping cart can be configured to only ship to the USA and Canada. Go to Advanced Features > Country Options for details.
The Freight Charge setting should be set to Shipping Method Rate as shown above. Review the Sales > Creating Shipping Methods section of the sales documentation for more details on the Freight Charge setting..
Click OK to save.
Disallowed Shipping Methods
Shipping methods may be disallowed because of one or more of the products listed within the order. Note the Disallowed Shipping Methods listed in the Shipping tab of each product.