You know that your roll-forming company is growing. Your customers are demanding more from you. You need to ramp up production to meet this demand, but your team is at maximum capacity with your current processes. Even though you've posted on every job board imaginable – you haven't been able to find the right people to expand your team and keep up with your company's growth.
The right ERP system can help with these challenges by automating workflows, allowing you to scale up without hiring more labor. You'll be able to automate repetitive tasks that were previously done manually and streamline your business processes to improve efficiency.
Reduce Manual Input
Reducing the amount of manual input needed by employees reduces errors and increases productivity. ERP can help eliminate duplicate entry and ensure consistency across departments, so that each employee only has to enter data once. This is especially helpful in roll-forming companies where there are multiple salespeople working with different customers or locations, as well as multiple production lines producing different products or parts. The right ERP system can help you create more streamlined and connected processes across the business, show a more accurate view of your business, and speed up turnaround times on projects.
Doing all your calculations manually (or in spreadsheets) can have serious consequences. If a calculation changes, you need to manually make that change again in every place where it was done. This also leads to errors, as it's easy to forget one or two places where you made the same calculation.
The same goes for errors caused by manual data entry. If a customer orders 10ft of steel paneling, but it gets entered into the system as 19 later in the production process, that could cause a huge issue when it comes time to ship the materials out or when it comes time for inventory replenishment.
"Little human errors created a lot of confusion and chaos in our daily operations. EBMS has helped like crazy against that ... We're able to connect directly to our Variobend machinery on the production floor from the EBMS sales order. This allows us to draw the trim specifications directly on the screen instead of making a hand-drawing, which resolves a number of issues." – Austin Johnson, Metal Center

Streamline Core Business Processes
ERP helps roll-forming companies streamline core business processes like sales, production, and delivery processes into their accounting without needing to enter anything twice. When you take away the time loss and frustrations of manual processes, you'll have happier and more productive employees, consistently better and faster customer service, and fewer errors and complications with orders. With everything connected and streamlined, it offers the ability to scale up or down quickly as demand fluctuates throughout the year without having to hire more labor. Your company will be able to get more done with the team you already have, saving you the stress of hiring in a tight labor market.
In one system, your team will be able to
Sell building packages

Quote and price by the linear foot
Sell stock and custom trim packages

Control large amounts of material

Automate complex pricing calculations

Keep financial data up-to-date with operations
Roll-forming companies like Metal Center of Albuquerque, NM and Wagler Steel of Paradise, PA have transformed their companies and moved beyond time-consuming, error-prone processes by implementing ERP software. Connect with Brian to learn if EBMS is the right solution for your roll-forming business.
Additional Resources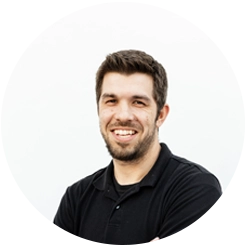 Brian Esh is a Sales Consultant at Koble who is passionate about following Jesus and helping small businesses grow. Brian has spent nearly a decade working with numerous business leaders to facilitate growth by putting software to work. When not working, Brian enjoys competitive sports and spending time with his wonderful wife and two children.