If there is one thing that can be said about small businesses in 2022, it's that we're busy. Demand has increased and good help is harder to find, meaning that we're working harder than ever and our backlog of work stays full. With all this work pulling at us, it becomes difficult to stay on top of it all.
From Busy-ness to Real Productivity
A few things are helpful as we take a look at what it takes to get on top of our work. We've already talked about ways to increase productivity, but in order for productivity to be truly effective, there has to be a deeper motivation driving it. We all want to get stuff done, but we also want to see how what we do is connected to the bigger picture and how it betters the lives of the people around us. Maybe you're an HVAC company that wants to help homeowners create a comfortable space for their families to spend time in together. Or perhaps you're an equipment rental company that wants to give businesses and individuals access to the tools they need to get the job done quickly. Whatever service you provide, it makes a difference for someone.
If you as an employer can provide meaningful insight for their workers on how what they're doing makes a difference, their workers will stay motivated and be more productive and customers will feel the positive impact.
How can this be done when we are so busy? How can we motivate our team with a clear vision while also making sure stuff gets done and details are communicated effectively? Part of the solution lies in the technology we use. The right solutions will automate the flow of information between teams. If our solutions are fragmented, then the work we do will be too. Fragmented solutions require extra effort to follow paper trails and enter data manually (and more than once), and extra time to ensure the information is correct. By requiring so many repetitious (and even tedious) tasks to get the job done, we wear our employees thin and lose focus of why the work matters.
Connected Tech Solutions for a Productive Team
Many companies using EBMS have employees working on production floors, out of service vans and delivery trucks, and in warehouses. These workers often have multiple jobs to complete in a day. They are likely given paper work orders by their production or service manager to communicate task details. Any updates on the tasks have to be communicated verbally and, at the end of the day, have to be re-entered into the system. Without an easy way to keep the information updated in real-time, productivity slows down, and it takes more time to communicate details.
MyTasks, part of the MyEBMS suite of apps, is a mobile task management solution designed for workers in these scenarios. This lightweight app helps these employees keep track of their daily schedule, add notes to tasks, and stay connected to the rest of the company with real-time updates from the main EBMS system. Managers will be able to see when a worker started or completed a job, and workers can see updates to their schedule throughout the day. Using MyTasks makes it simple for your team at all levels to get the information they need, make notes, and complete their work quickly.
With real-time updates in the app, it takes less time to communicate details about the work that needs to be done. The data is updated everywhere simultaneously. This drastically cuts down the time that is needed to communicate changes (as well as the time that would be spent manually entering task updates into the system). An employee who doesn't have to waste time and energy on tedious work will feel their time is valuable and will produce noticeable results. That helps make the difference between a company that is just staying busy, and one that builds a culture of productivity driven by the desire to make a positive impact.
So, How does a Task Management App affect Productivity?
When a company utilizes tools that help cut down on paper trails and tedious work like double entry, it frees up time and energy to focus on what really matters - understanding how you're positively impacting the lives of your customers - and serving them well. Streamlining how your team communicates and collaborates on tasks is just a great place to start.
We believe that your work matters. Communicating details and keeping data updated should help your team be truly productive, not take away from that productivity. To automate where you can and free up time to focus on the bigger picture, contact your Account Manager to discuss MyTasks and the rest of the MyEBMS app features.
To make sure you stay updated with the latest EBMS product features, join our email community
Additional Resources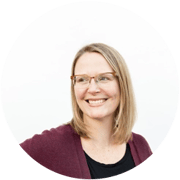 Janelle Lieberher is the Manager of our Account Management team here at Koble. She has worn many other hats over the years with us, but this is her favorite! She loves building relationships and finding ways to improve our client's overall experience. When not engaging with clients or colleagues, Janelle enjoys time with her family, reading and spending time in nature.