The EBMS software includes an option to record and manage subcontractor labor that is reported using a 1099 form. This option uses the strengths of the multiple work codes, time tracking, job costing, and task management within the EBMS software with the option of paying for the labor using 1099 vendors.
Scenario: Labor is an important asset within a building supply center that sells manufactured buildings. The company contracts most the construction labor of the building to subcontractors. Some of the labor is leased from a leasing company. The company tracks labor for specific jobs using the MyJobs app. The subcontract workers record their time within a work order using the MyTime app as well as recording notes and documents related to the contracted labor. The labor module creates expense invoices that generates payments to the subcontractors using ACH payments and printed checks. This builder combines the power and details of an internal labor system, job costing, with a combination of employees, subcontractors, and leased employees. This means of tracking time and recording project details allows this company to maximize the effectiveness of their job labor management.
Scenario: A mechanical contractor company offers repair and preventive maintenance to it's vast customer base as well as new HVAC and plumbing installation for residential and commercial construction. The service and installation labor is a combination of employees, leased workers, and subcontract workers that are issued 1099s. The EBMS MyTime and work order system is used to electronically communicate task details, parts list, and schedules to the entire team. The service technicians uses tablets to record time, project notes, and at times will bill the customer. The MyJobs app is used to record labor for larger projects. Materials are verified at the job site using the MyEBMS app installed on the foreman's smart phone. The various integrated labor tools and remote apps combined with the EBMS ERP system allows this HVAC company to manage various resources in an efficient and cost-effective manner.
Scenario: A heavy equipment manufacturing company uses the EBMS software to manage orders for made-to-order solutions. The company uses the inventory management and manufacturing tools within the software to quote and build the equipment. The multiple step manufacturing process includes both in-house manufacturing and sub shops. Subcontractors are used to powder coat manufactured parts and to assemble some of the electronic components. The EBMS labor management tool is used to record time and manage employees, subcontractors, and other resources using a common work order process. The efficiency of communicating information between the MyTime portable app and the EBMS labor ERP module allows this company to handle a large quantity of MTO orders, manage the manufacturing process, and track labor and other costs using a variety of manufacturing labor.
Subcontractor Labor Feature Introduction 1 minute
Subcontractor Labor ERP Support Training
Subcontract labor can be handled using expense invoices or the labor module. Review the following reasons to use either method to determine the best process.
Process subcontractor labor using the labor module:
The data collection tools listed below are needed

A mixure of internal labor and subcontract labor are using the task and worker module within EBMS.

The subcontractor submits time sheets with the number of hours spent rather than only a dollar labor cost invoice.
Paying subcontractor labor using the expense invoice:
Labor is not billed by the hour but invoiced.

Labor is part of the materials planning within a job. Review [Financials] Job > Materials > Subcontractor Labor within a Job Transfer for more details.

Labor is added to a manufacturing batch. Reveiw [Inventory] Manufacturing > Creating a Batch > Adding Labor, No Count, and other Costs to a Batch for more details.

The following processes are not benefitual to the user.
Data Collection
EBMS contains many time and attendance tools as listed below: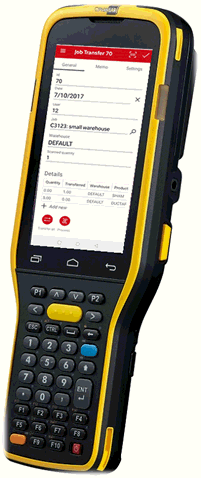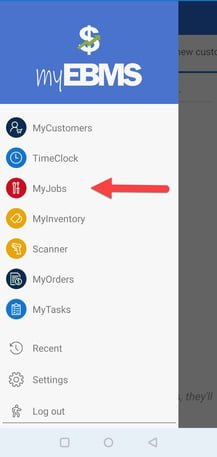 Review [Financials] MyJob > Overview for job tracking details.
Review Tasks > Using Tasks as Work Orders for information on tracking labor on work orders.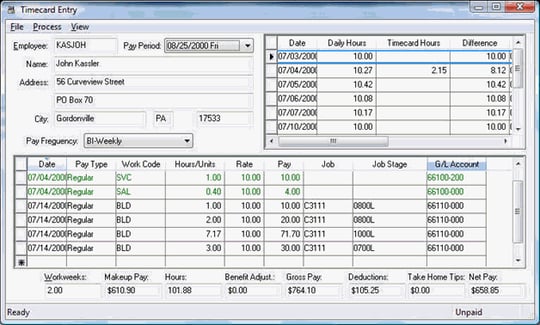 Review Time and Attendance > Time Track App > Using Time Track for steps on tracking labor and recording time on the flexible timecard.
Review Piecework Pay > Overview for details on processing piecework pay for contractors.
Review Flag Pay > Overview for details on managing task flag pay for contractor labor.
Processing Subcontractor Labor
Review Configuring EBMS for Subcontractor Labor for setup instructions. Note that additional vendor codes and subcontractor financial accounts must be configured to complete this process.
Review Processing 1099 Subcontractor Labor to pay subcontractor vendors using the labor module.
Review [Financials] 1099 > Printing 1099 Forms for end of year steps to generate 1099 forms.
Related Videos and Content
Videos