Keeping track of product pricing and availability from your suppliers can be even more time-consuming and cumbersome. For a parts supply company that handles thousands of inventory items, as well as special order parts, it's downright overwhelming.
Inventory management, point-of-sale, and product purchasing are three of the key operational processes for any automotive parts dealer. Getting more streamlined and efficient processes in place for these areas is a great way to boost productivity and increase profitability. This means you'll want your employees to have the ability to easily track parts in and parts out, find the latest pricing and availability, and have everything seamlessly connect back to the point-of-sale screen.
Tools for better inventory management
It's hard to know what to keep in inventory and what to special order when you're dealing with thousands of parts. If you don't have the right items in stock, customers will find what they need elsewhere. But every inventory item that sits on your shelf limits your overall cashflow – and when it comes to business flexibility, cash is king. You could benefit from clear, reliable data showing how different products and product groups trend, as well as knowing the profit margins for various items.
Our ERP system, EBMS, comes with some of the most robust inventory management tools available to those in the automotive aftermarket space. Comprehensive, built-in inventory features as well as integrations with key distributors and suppliers (Like Keystone Automotive, Motor State Distributing, and more) allow EBMS users to manage a large number of parts, maintain pricing, and manage special orders. Parts information can be copied from the supplier's catalog into the EBMS inventory system when the part is inserted into a sales order, ensuring that you have the most updated cost and lead time for that order.
You can easily manage stock and non-stock items for special orders, track payments, vendor shipments, and drop shipments to streamline the process.
With the right tools in hand, it will be easier for your inventory manager to know what you have, what you need, when to purchase, and when to special order. You'll be able to keep the flow of inventory steady without spending extra time updating your system manually with the latest information from suppliers.
Accessible information from the point-of-sale screen
With our fully integrated business management system, all your operations are running off the same data. When you have a purchase order up on the screen at the sales counter and enter in an order for a new set of spark plugs, you can see exactly which ones are in your available stock without wondering if the information is up-to-date from the orders that went out that morning.
Or, if there is a customer that needs a special order item, you can easily access the supplier catalogs to see what's available and how long the lead time is without leaving the sales counter. You can then pull that information directly into the sales order with your correct pricing structure because of the automated pricing configurations. So, even when dealing with items you don't carry, your sales process is streamlined and efficient.
Easier product purchasing, even when dealing with thousands of parts
Because inventory, sales, and financials all work together in EBMS, you will be able to find product profit margins and sales trends more easily, helping you make better decisions in your purchasing process. And tight integrations with supplier catalogs ensure that you're seeing the latest costs and availability for all the products you need.
"EBMS has helped us achieve efficiency not just for our point-of-sale software needs, but our accounting needs as well. It has helped reduce the amount of time that was spent on searching for certain transactions, tracking parts, monitoring our inventory, and keeping our accounting up-to-date. Our goal is to continue to grow our business, and EBMS will be a major tool in helping us become the successful company that we desire. Overall, I am very pleased with the product and would recommend EBMS to anyone looking to help assist their company with all of their point-of-sale software and accounting needs." - Allout Offroad, Inc.
Let's Connect
If you would like to know more about how you can overcome the challenge of complex parts inventory management by connecting your inventory, point-of-sale, and purchasing workflows, email Jethro.
Additional Resources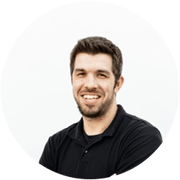 Brian Esh is a Sales Consultant at Koble who is passionate about following Jesus and helping small businesses grow. Brian has spent nearly a decade working with numerous business leaders to facilitate growth by putting software to work. When not working, Brian enjoys competitive sports and spending time with his wonderful wife and two children.